| | |
| --- | --- |
| | This article is for a speculative species; a creature that has not been assigned to a taxon by any official media or material. This article may be deleted in the future for the sake of parsimony. |
Utahraptor (meaning Utah's predator or Utah thief) is a genus of theropod dinosaurs, including the largest known members of the family Dromaeosauridae. Fossil specimens date to the upper Barremian stage of the early Cretaceous period (in rock strata dated to 126 ± 2.5 million years ago). It contains a single species, Utahraptor ostrommaysi.
Description
The holotype specimen of Utahraptor is fragmentary, consisting of skull fragments, a tibia, claws and some caudal (tail) vertebrae. These few elements suggest an animal about twice the size of Deinonychus. Like other dromaeosaurids, Utahraptor had large curved claws on their second toes. One claw specimen is preserved at 22 centimeters (8.7 in) in length and is thought to reach 24 centimetres (9.4 in) restored. The largest described U. ostrommaysi specimens are estimated to have reached up to 7 m (23 ft) long and somewhat less than 500 kg (1,100 lb) in weight, comparable to a grizzly bear in size. Some undescribed specimens in the BYU collections may have reached up to 11 m (36 ft) long, though these await more detailed study. It is thought that Utahraptor may be closely related to the smaller Dromaeosaurus and the giant Mongolian dromaeosaurid genus Achillobator.
Although feathers have never been found in association with Utahraptor specimens, there is strong phylogenetic evidence suggesting that all dromaeosaurids possessed them. This evidence comes from phylogenetic bracketing, which allows paleontologists to infer traits that exist in a clade based on the existence of that trait in a more basal form. The genus Microraptor is one of the oldest known dromaeosaurids, and is phylogenetically more primitive than Utahraptor. Since Microraptor possessed feathers, it is reasonable to assume that this trait was present in all of Dromaeosauridae. Feathers were very unlikely to have evolved more than once in dromaeosaurids, so assuming that Utahraptor lacked feathers would require positive evidence that they did not have them. So far, there is nothing to suggest that feathers were lost in larger, more derived species of dromaeosaurs.
In a 2001 study conducted by Bruce Rothschild and other paleontologists, 2 foot bones referred to Utahraptor were examined for signs of stress fracture, but none were found.
Discovery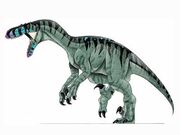 The first specimens of
Utahraptor
were found in 1975 by
Jim Jensen
in the Dalton Wells Quarry in east-central Utah, near the town of Moab, but did not receive much attention. After a find of a large foot-claw by Carl Limoni in October 1991 James Kirkland, Robert Gaston, and Donald Burge uncovered further remains of Utahraptor in 1991 in the Gaston Quarry in Grand County, Utah, within the Yellow Cat and Poison Strip members of the Cedar Mountain Formation. Radiometric dating has shown that these parts of the Cedar Mountain Formation were deposited about 124 million years ago. The type specimen, CEU 184v.86, is currently housed at the College of Eastern Utah Prehistoric Museum, although Brigham Young University, the depository of Jensen's finds, currently houses the largest collection of
Utahraptor
fossils.
The type species (and only known species of Utahraptor), Utahraptor ostrommaysi, was named by Kirkland, Gaston and Burge in 1993 for the American paleontologist John Ostrom, from Yale University's Peabody Museum of Natural History, and Chris Mays, of Dinamation International. Earlier it had been intended to name the species "Utahraptor spielbergi" after film director Steven Spielberg, in exchange for funding palaeontological research, but no agreement could be reached on the amount of financial assistance. Sculptor Raymond Persinger was included in James Kirkland's original abstract referencing Mr. Persinger's concepts regarding the claw structure.
Utahraptor in The Land Before Time
A large pack of what are believed by a some fans to be representative of Utahraptor are depicted in "The Lonely Journey", an episode of The Land Before Time. They are only shown running away from Red Claw and stampeding past Chomper.
Community content is available under
CC-BY-SA
unless otherwise noted.