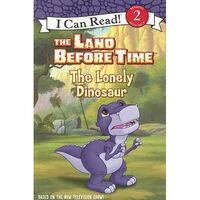 The Land Before Time: The Lonely Dinosaur is a 2008 "I Can Read" book, written by Catherine Hapka and illustrated by Charles Grosvenor. It is based on the episode "The Lonely Journey", of the Land Before Time television series.
Plot
This story is based on the thirteenth episode of the Land Before Time TV series called, 'The Lonely Journey' which Chomper wanted to become friends with Sharpteeth like Red Claw.
Chomper had to set off for the Mysterious Beyond after an incident happened at a Time of the Great Giving in the Great Valley, for Sharpteeth to become friends with the only Sharptooth in the Great Valley.
As he tried to join friends with Fast Biters and got away from Red Claw, Chomper had the idea to go up into a snowy mountain which claims that he's missing and no one will see him with a Sharptooth friend.
Can Littlefoot, Cera, Ruby, Ducky, Petrie and Spike find the Sharptooth before he's missing for the rest of the day?
Songs
Sniff Him Out
Feel So Happy
Community content is available under
CC-BY-SA
unless otherwise noted.