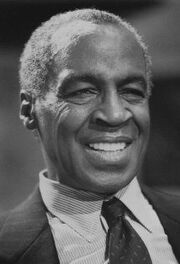 Robert Guillaume (November 30, 1927 – October 24, 2017) was the voice of Mr. Thicknose in The Land Before Time VIII: The Big Freeze.
Guillaume also provided the voice of Rafiki in The Lion King, and Eli Vance from the popular video game Half-Life 2.
Guillaume died on October 24, 2017 from prostate cancer, at the age of 89.