Information in this article is non-canon
Though the following article does detail an official piece of Land Before Time media approved of by Universal, it should in no way be seen as a canon part of the Land Before Time universe established by the movies and TV series episodes.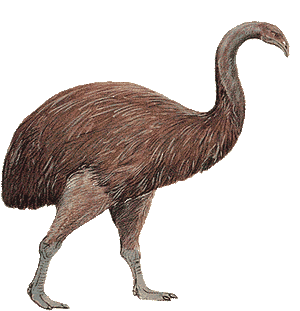 The moa were nine species (in six genera) of flightless birds endemic to New Zealand. The two largest species, Dinornis robustus and Dinornis novaezelandiae, reached about 3.6 m (12 ft) in height with neck outstretched, and weighed about 230 kg (510 lb). When Polynesians settled New Zealand around CE 1280, the moa population was about 58,000.
Moa belong to the order Dinornithiformes, traditionally placed in the ratite group. However, their closest relatives have been found by genetic studies to be the flighted South American tinamous, once considered to be a sister group to ratites. The nine species of moa were the only wingless birds lacking even the vestigial wings which all other ratites have. They were the dominant herbivores in New Zealand's forest, shrubland and subalpine ecosystems for thousands of years, and until the arrival of the Māori were hunted only by the Haast's eagle. The moa went extinct around CE 1300 - CE 1440 ± 20 years, primarily due to overhunting by Māori.
Description
Although moa skeletons were traditionally reconstructed in an upright position to create impressive height, analysis of their vertebral articulation indicates that they probably carried their heads forward, in the manner of a kiwi. The spine was attached to the rear of the head rather than the base, indicating the horizontal alignment. This would have allowed them to graze on low-elevation vegetation, while being able to lift their heads and browse trees when necessary. This has resulted in a reconsideration of the height of larger moa.
Although there is no surviving record of what sounds moa made, some idea of their calls can be gained from fossil evidence. The trachea of moa were supported by many small rings of bone known as tracheal rings. Excavation of these rings from articulated skeletons has shown that at least two moa genera (Euryapteryx and emus) exhibited tracheal elongation, that is, their trachea were up to 1 metre (3 ft) long and formed a large loop within the body cavity. These are the only ratites known to exhibit this feature, which is also present in several other bird groups including swans, cranes, and guinea fowl. The feature is associated with deep, resonant vocalizations that can travel long distances.
In The Land Before Time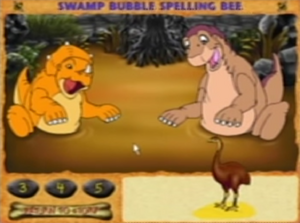 A moa briefly appears in the The Land Before Time Animated Moviebook's Swamp Bubble Spelling Bee minigame, during a presentation of the word "Bird".
Community content is available under
CC-BY-SA
unless otherwise noted.