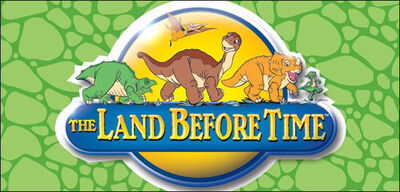 Welcome to Land Before Time Wiki! A wiki database dedicated to the popular and longest-running dinosaur children's cartoon series, The Land Before Time that ANYONE can edit.
Our wiki was founded in 2006. With 1,572 articles, 22,427 files, and 202,864 total edits, Land Before Time Wiki is the best dedicated source to The Land Before Time films, TV series, characters, songs, species, and more. We are looking for new and experienced FANDOM editors alike, and we would like to see you contribute!
Help us expand our 1,572 articles today!
All Pages · Rules & Guidelines · Wanted Pages · Featured Articles · Featured Images · OC · Fanfiction · Fanon Wiki
Want to help the Wiki?
A Sharptooth (Tyrannosaurus) appears in The Land Before Time VIII: The Big Freeze as the main antagonist, where he chases The Gang and Mr. Thicknose.
He is first seen in the opening of the film, where he attempts to eat a Coelophysis and a Camptosaurus.
He eventually returns later in the film, where he is knocked out by a snowball after chasing the kids.
He soon meets his end when Mr. Thicknose throws a log at him, causing the sharptooth to fall to his death.
---
---
Description: The green sharptooth, from The Land Before Time XIII: The Wisdom of Friends.
---
Recently featured: Tippy falling into a lake, Crownhead chasing Cera, Red Claw and Treesweet, Evil Ducky, Mountain Sharptooth's defeat, Grandpa and Grandma Longneck from the fourteenth film, Happy Ducky.
---
Latest TLBT movie...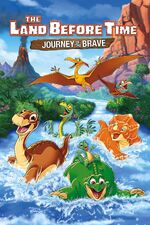 The Land Before Time XIV: Journey of the Brave
The gang sets out on a quest to rescue Littlefoot's father, traveling across strange landscapes and making new friends in the Mysterious Beyond.
External links
Community content is available under
CC-BY-SA
unless otherwise noted.