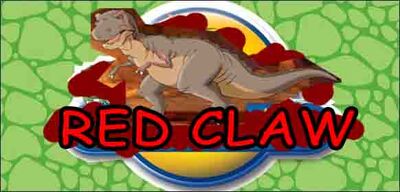 Welcome to Red Claw Wiki (formerly known as the Land Before Time Wiki)! A wiki database dedicated to the popular and longest-running dinosaur children's cartoon series character, Red Claw, that ANYONE can edit.
Our wiki was founded in 2006. With 1,580 articles, 24,070 files, and 215,630 total edits, Land Before Time Wiki is the best dedicated source to The Land Before Time films, TV series, characters (specifically Red Claw), songs, species, and more. We are looking for new and experienced FANDOM editors alike, and we would like to see you contribute!
Help us expand our 1,580 articles today!
All Pages · Rules & Guidelines · Wanted Pages · Featured Articles · Featured Images · OC · Fanfiction · Fanon Wiki
Want to help the Wiki?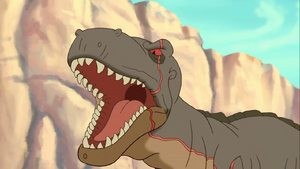 Red Claw® is a major antagonist in The Land Before Time TV series. He is a Tyrannosaurus, known as a Sharptooth. He is most identifiable by the long scar running down his body from his left eye to his finger claw. Sometimes, Red Claw possesses a dorsal ridge. Red Claw is the TV series' main antagonist, and commands two of his Fast Biter minions, Screech and Thud, to aid him in eating the main characters. Chomper calls him "the biggest and meanest sharptooth of them all", and he is regarded as one of the greatest of all sharpteeth by fans.
Red Claw himself has appeared in seven episodes of the television series, but regrettably did not appear in the most recent Land Before Time film, The Land Before Time XIV: Journey of the Brave.
---
Recently featured: Some boring leaf-eaters and lesser sharpteeth.
---
Description: Red Claw's grand debut in "The Cave of Many Voices".
---
Recently featured: More boring pictures of flatteeth and lesser sharpteeth, as well as an incriminating picture of Red Claw.
---
Latest TLBT movie...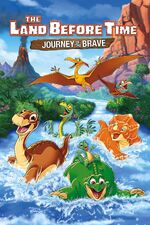 The Land Before Time XIV: Journey of the Brave
The gang sets out on a quest to rescue Littlefoot's father, traveling across strange landscapes and making new friends in the Mysterious Beyond.
External links
Community content is available under
CC-BY-SA
unless otherwise noted.