This article is for a speculative species; a creature that has not been assigned to a taxon by any official media or material. It may not be intended to represent an actual species. However, if a reasonable representation of a real species is found, it will be identified as closely as possible.

Unreasonable or overly speculative articles may be deleted for the sake of parsimony.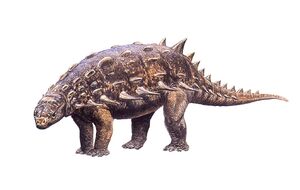 Hylaeosaurus ("forest lizard") was a nodosaurid ankylosaur from the Early Cretaceous of England. It was the third dinosaur to be named.
In The Land Before Time
Some Hylaeosaurus appear in The Land Before Time IV: Journey Through the Mists, in the crowd scene after the longneck herd arrives.
Trivia
References
Community content is available under
CC-BY-SA
unless otherwise noted.