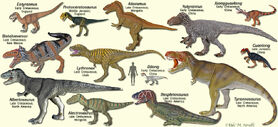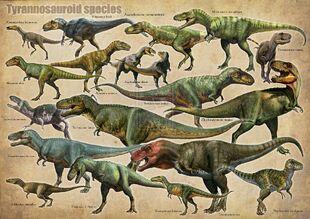 Tyrannosaurs
were among the most aggressive and largest theropod dinosaurs in North America and Asia, descended from early coleurosaurs no bigger than chickens. Tyrannosaurs ranged from the size of a large dog (3 meters) to the size of a mammoth (over 6 metres high and 13 meters long).
Below is a variety of the tyrannosaur family genera and tyrannosaur species seen in The Land Before Time.
Trending pages
All items (22)
B
C
D
F
M
N
O
P
R
S
T
V
Y
Community content is available under
CC-BY-SA
unless otherwise noted.